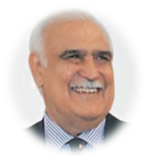 20 October 2019 will be remembered as the fateful day when Mr. Yusuf H. Shirazi, the Founder and Chairman of Atlas Group, left for his heavenly abode. He was born on 01 January 1929.
Mr. Shirazi was a visionary with brilliant business acumen and will always be remembered as the most successful and leading first generation entrepreneur of Pakistan. After working for a short while in Public and Private sectors, he embarked on his long and distinguished career in private enterprise where he set up numerous highly successful companies in the field of engineering, finance, trading, power generation etc. In particular his collaboration with Honda Japan paved the way for establishment of Auto Industry in Pakistan. He practically changed the course of lives of millions of Pakistanis by providing inspiring vision, defining new careers and creating numerous opportunities.
Mr. Shirazi was highly respected as a visionary, industrial, writer, journalist and philanthropist. In recognition of his services, he was decorated with the Sitara-e-Essar and Sitara-e-Imtiaz by the Government of Pakistan. He was also bestowed National Awards by the Government of Japan.
"Barae Shirazi Sahab", as he was lovingly addressed, will continue to inspire generations as his vision transcended into his individual style and a legacy of sustainable managerial system. His economics of Glocalization was reflective of his love for his homeland to the extend that it became contagious. Through sheer inspiration, he managed to attract foreign investments by world-renowned foreign companies such as Honda, GS Yuasa, MAN, etc. to Pakistan.
While Atlas-Wala's will mourn 20 October 2019 as a sad memory, for the history it will be a joyous celebration of a successful life dedicated to the country and humanity.