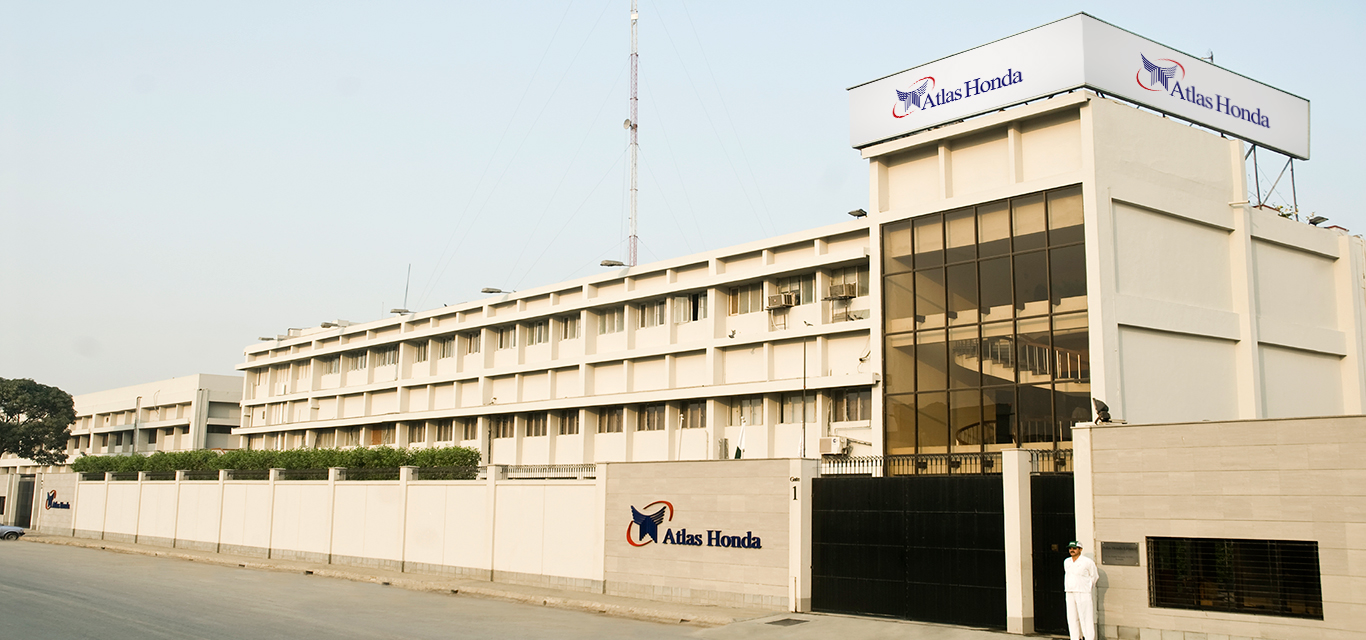 Atlas Honda Limited is a public listed company which was incorporated on October 16, 1962. It is a joint collaboration between Honda Motor Company Limited Japan, the largest and most reputed motorcycle brand in the world, and Atlas Group, one of Pakistan's most renowned business conglomerates. The Company is principally engaged in progressive manufacturing and marketing of motorcycles and spare parts.
Atlas Honda Limited is the largest motorcycle manufacturer in Pakistan with the strongest brand value and highest customer loyalty. The Company is considered a pioneer of motorcycle industry in the country and has been leading two wheeler market successfully for over 50 years.
The Company currently has a production capacity of over 1.5 million units per annum and continues to maintain its status as market leader both in terms of volume and quality. It also exports its motorcycles and spare parts to Bangladesh and Afghanistan.
With highest quality products, state of the art manufacturing facilities, largest dealership network & impeccable after sales service, Atlas Honda Limited is today considered a benchmark for two wheeler manufacturing. It has been proudly and successfully fulfilling its role as the flag bearer of motorcycle industry in Pakistan.
As one of the largest tax payers in the private sector and being one of the best employers in the country, Atlas Honda Limited stands as a beacon of light for the corporate, social and intellectual sectors of Pakistan.
Further information about the Company is as follows:
Establishments
Registered Office:
1-Mc Leod Road, Lahore-54000
Manufacturing Facilities:
Sheikhupura plant
26-27 KM, Lahore-Sheikhupura Road, Sheikhupura-39321
This plant is the country's largest in-house manufacturing facility for motorcycles and related spare parts. It's a modern state of the art factory that is involved in manufacturing of all the models of the Company. Its spread over 27 acres.
Karachi plant
F-36, Estate Avenue, S.I.T.E., Karachi-75730
This is the mother plant of the Company. Atlas Honda Limited started its operations from here back in 1963. It is spread over 5 acres and is used for manufacturing CD70 (one of Company's most famous models). It also operates as Company's Head Office.
Branch Offices:
1st Floor, 28-Mozang Road, Lahore

Islamabad Corporate Center, Plot No. 784/785, Golra Road, Islamabad

1st Floor, Meezan Executive Tower, 4-Liaquat Road, Faisalabad

Azmat Wasti Road, Multan

2nd Floor, Dawood Centre, Autobhan Road, Hyderabad.

Makhdoom Altaf Road, West Sadiq Canal Bank, Near City School, Rahimyar Khan
Showroom:
West View Building, Preedy Street, Saddar, Karachi
Warranty & Training Centres:
1st Floor, 28-Mozang Road, Lahore

Azmat Wasti Road, Multan
Financial
Authorized Share Capital:
Rs. 1,500,000 thousand (150,000,000 shares)
Paid Up Capital:
Rs. 1,240,879 thousand (124,087,935 shares)
Stock Exchange Listings:
Stock Exchange Symbol:
ATLH
General
Company Registration Number:
CUIN 0001569
National Tax Number (NTN):
0801063-3
Sales Tax Number:
02-06-8711-001-37
Auditors:
Shinewing Hameed Chaudhri & Co. Chartered Accountants
Legal Advisors:
Mohsin Tayebaly & Co.
Tax Advisor:
Ernst & Young Ford Rhodes Sidat Hyder, Chartered Accountants
Shares Registrar:
Hameed Majeed Associates (Pvt.) Limited
H. M. House, 7-Bank Square, Shahrah-e-Quaid-e-Azam, Lahore
Bankers:
Allied Bank Limited

Askari Bank Limited

Bank Al-Habib Limited

Bank Alfalah Limited

Faysal Bank Limited

Habib Bank Limited

Habib Metropolitan Bank Limited

Khushali Bank Limited

MCB Bank Limited

Meezan Bank Limited

National Bank of Pakistan

Standard Chartered Bank (Pakistan) Limited

United Bank Limited
Memberships of Major Associations:
Pakistan Automotive Manufacturers Association (PAMA)

Pakistan Business Council

Federation of Pakistan's Chambers of Commerce and Industry

Chambers of Commerce and Industry of:

Karachi

Lahore

Sheikhupura

Overseas Investors

Management Association of Pakistan

Marketing Association of Pakistan