Corporate Social Responsibility Framework
The following diagram summarizes the Company's framework and approach to sustainability: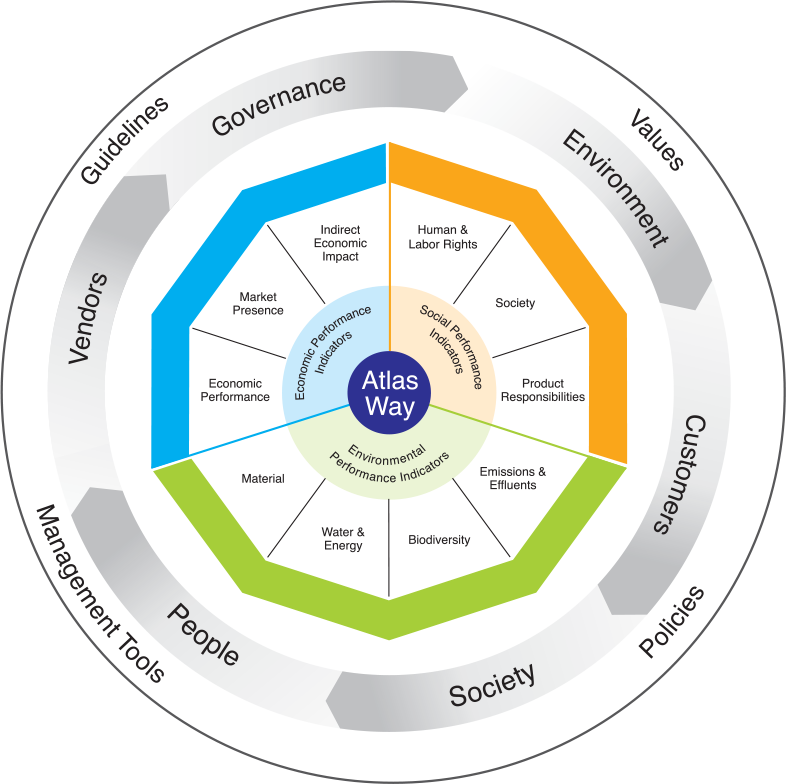 The corporate social responsibility focuses on crafting long-term values, leading to provide a level playing field for future generations to meet their needs. This goal can only be attained through the efficient use of available resources, commitment to creating sustainable products and solutions, and treating the environment and people equitably and with respect. AHL commits itself to act as a responsible business focusing to play its part in sustainable development. The commitment of doing business in a sustainable way sets apart the Company from its competitors, leading to customer satisfaction, appreciation, brand recognition and increasing product demand.
The Company is guided by its sustainability framework while making efforts for creating sustainable value for all of its stakeholders. The framework is a reflection of the Company's philosophy of Corporate Social Responsibility and focuses on the following six key areas:
The Company's framework is a product of the Atlas Group's fundamental business doctrine, the "ATLAS WAY". It comprises of the principles of "ATLAS CULTURE" and "ATLAS SYSTEMS".
The principles of the Atlas Way cover all departments, operations, activities and aspects of business and provide ideal guidelines for their progressive development. The ultimate goal is to obtain excellence in operations and quality in products without compromising the protection of environment and interests of society at large. The Atlas Way teaches the Company to pursue operational and financial results while maintaining environmental quality and social responsibility.
The Company ensures the adherence to the best practices in the sustainability reporting through application of its framework. The most widely used guidelines the Global Reporting Initiative (GRI) G4 guidelines, are used by the Company for communicating its impacts to its stakeholders.
The procedures adopted in the Atlas Culture and the Atlas Systems completely align the Company's areas of sustainability framework with the three performance categories given in the GRI guidelines.
The Company's sustainability framework defines the way we do business and is supported by a suite of policies, guidance, values and management tools. It commits the Company to consider and take responsibility for the longer term economic, social and environmental implications of its decisions and to work in partnership with stakeholders across the automotive value chain to maximize positive impacts.