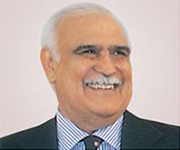 Yusuf H. Shirazi
Chairman
Mr. Shirazi is a Law graduate (LLB) with BA (Hons.) and JD (Diploma in Journalism) from Punjab University with Role of Honour and AMP Harvard. He served in the financial services of the Central Superior Services of Pakistan for eight years where he authored 50 reports as to how the businesses are carried and tax assessed. He was an instructor in the Finance Services Academy on Law and Accounts. He is the author of seven books including "Aid or Trade" adjudged by the Writers Guild as the best book of the year and continues to be a columnist, particularly on matters – socio – politico – economic matters.
Mr. Shirazi is the Chairman of Atlas Group, which, among others, has joint ventures with Honda, GS Yuasa and MAN to name a few. Mr. Shirazi has been the President of Karachi Chamber of Commerce and Industry for two terms. He has been the founder member of Karachi Stock Exchange, Lahore Stock Exchange and International Chamber of Commerce and Industry. He has been on the Board of Harvard Business School Alumni Association and is the Founder President of Harvard Club of Pakistan and Harvard Business School Club of Pakistan. He has been a visiting faculty member at National Defense University, Navy War College and National School of Public Policy. He has been on the Board of Governors of LUMS, GIK and FC College (Chartered University) and Pakistan Institute of Management. Previously, he also served, among others, on the Board of Fauji Foundation Institute of Management and Computer Sciences (FFIMCS) and Institute of Space Technology – Space & Upper Atmosphere Research Commission (SUPARCO).
Mr. Shirazi has been awarded Sitara-e-Eisaar and Sitara-e-Imtiaz the top Civilian Awards. Sitara-e-Imtiaz conferred by the Government of Pakistan recognizes individuals who have made an "especially meritorious contribution to the security or national interests of Pakistan, world peace, cultural or other significant public endeavors". Sitara-e-Eisaar Award is in recognition of CSR activities in Pakistan. A Distinguished Formanite Award for outstanding achievements as an entrepreneur was awarded by Forman Christian College – University Lahore.
The Government of Japan also acknowledged Mr. Shirazi's contributions to promote economic relationship between the two countries by conferring the Japanese National Award.