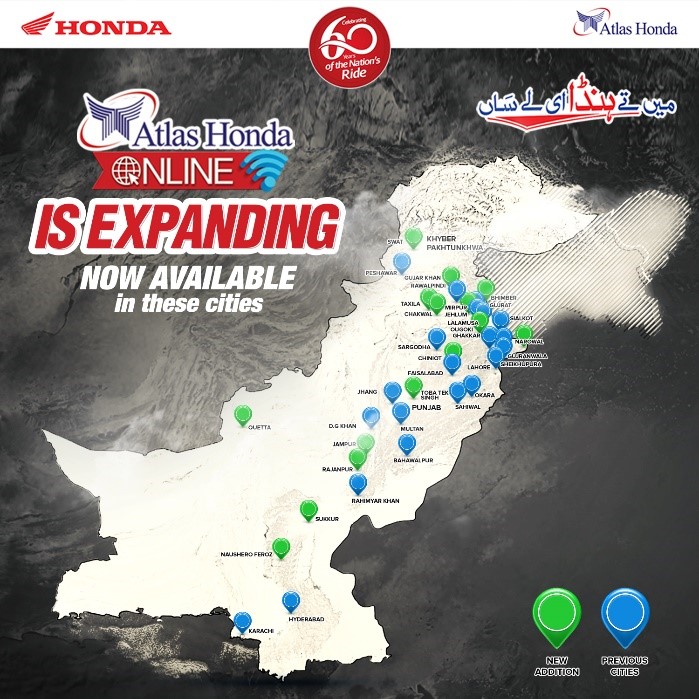 Atlas Honda Expands Online Presence
Atlas Honda, a leading motorcycle manufacturing company in Pakistan, is making significant strides to enhance customer accessibility and convenience. As part of its digital transformation, Atlas Honda has introduced the innovative Atlas Honda Online platform. This user-friendly platform provides a wide range of features designed to enhance the motorcycle buying experience. Customers can now conveniently browse, compare, and purchase new motorcycle, Exchanging old motorcycle, buying genuine spare parts and book a service for their motorcycle with just a few clicks. Customers just need to browse through Atlas Honda Online section on Atlas Honda Website or swipe through Atlas Honda Mobile Application to enjoy these features. The company recently announced its expansion into several cities across the country. By expanding their reach, Atlas Honda aims to ensure that their products and services are accessible to a larger customer base nationwide.
The ease and effortlessness of the Atlas Honda Online platform keep customers closely connected to the brand. With just a touch of a few buttons, customers can access a comprehensive range of services and products, all from the comfort of their own homes. The platform's user-friendly interface makes browsing, purchasing, and managing orders a seamless experience, saving customers valuable time and effort.
Atlas Honda Online's expansion into various cities across Pakistan, reflects the company's dedication to customer satisfaction and technological advancement. By leveraging the power of digital platforms, Atlas Honda aims to provide motorcycle enthusiasts with a convenient and immersive experience. Whether customers are looking to purchase new motorcycles, exchange their old ones, book services, or acquire genuine spare parts, Atlas Honda Online offers a one-stop solution. With a strong commitment to innovation and customer-centricity, Atlas Honda continues to solidify its position as a leader in the motorcycle industry, offering superior products and services to its valued customers.